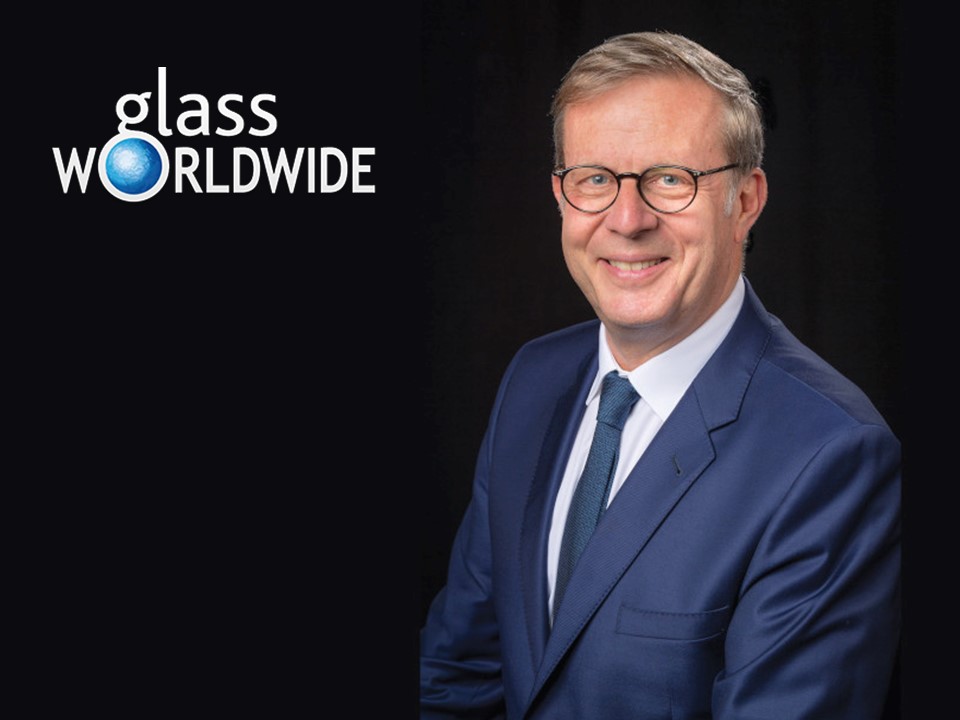 Following his recent election as Chairman of FEVE's Glass Flaconnage Board, Laurent Zuber spoke to Glass Worldwide, preferred journal of FEVE, about his role in the management of SGD Pharma and the company's evolution into a world leading supplier in pharmaceutical packaging.
Born and raised in France, Laurent Zuber earned his marketing degree in 1981 from the ISC Business School in Paris. After starting his career with United Technologies, Mr Zuber spent 17 years with Saint-Gobain Group, advancing his career through several marketing and commercial management roles in the Emballage Division. He was one of the management team who successfully guided the sale of Saint-Gobain Desjonqueres to a private equity company in 2007, at which point SGD SA was born and Mr Zuber became General Manager of the Pharma Strategic Business Unit. In 2016, he again was a key member of the management team who oversaw the demerger and sale of the Pharma SBU to the Chinese sovereign fund JIC Group, at which point he was named CCO for the SGD Pharma group.
 
Fluent in French and English, Laurent Zuber has more than 30 years' experience in the pharmaceutical, cosmetics, food and beverage packaging industries and was a stand out candidate when the European Container Glass Federation (FEVE) was looking to appoint a Chairman of its Glass Flaconnage Board. "The European glass flaconnage sector is world leader in the production of specialty bottles for the perfumery, cosmetics and primary glass packaging to the pharmaceutical sector" he commented following his recent appointment. "Bringing visibility to our sector's assets and strengths to succeed in supporting the development of our customers' brands and - in the pharmaceutical sector - to commit to patients' safety by delivering the highest quality products, will be beneficial to the EU's economy and external trade, as well as for the whole glass packaging industry. This is one of the main objectives of my mandate in FEVE, which I take on with great energy and enthusiasm."
Mr Zuber is confident that the glass flaconnage industry will remain the preferred solution for perfumery and pharmacy customers, if the industry continues to be creative, innovative and environmentally-friendly. "I am honoured to support and work with the FEVE Flaconnage team to grow the competitiveness of the glass container industry and deliver sustainable packaging solutions to our customers."​
 
STRONG SKILL SET
Over the years, Mr Zuber has developed a strong skill set in international management, as a general manager of industrial operations, for innovation and strategy, change management, international sales and marketing and key account management. He was drawn to the glass packaging industry because of its ability to deliver products that directly satisfy customer needs, a mentality reinforced by former Saint-Gobain Desjonqueres and Verallia CEO, Jean-Pierre Floris. "Mr Floris had the capacity to convince employees that our priority is the customer's satisfaction" he recalls. "Indeed, this mentality/vision was not so simple 20 years ago in a heavy industry like glassmaking!"
Among his most rewarding achievements to date is Laurent Zuber's pivotal role in transforming the mind-set within SGD Pharma plants from being a glassmaker into a primary pharma packaging supplier. He was also responsible for convincing former shareholders to invest in India and start making business in tubular glass by building a new plant. And among his greatest challenges was the decision three years ago to split the SGD group into two independent, standalone companies, one focused on perfumery (Verescence) and the other dedicated fully to the pharma industry (SGD Pharma).
 
GLOBAL PRESENCE
As the global market for medicines continues to expand, the demand for parenteral therapies is showing sustained growth, boosted by developing treatments for complex disease areas. To meet the needs of this segment, SGD Pharma is focusing its attention and its investment, on strengthening its capabilities to supply this critical market segment. Today, the group is acknowledged as a world leading supplier of Type I for the parenteral and nasal markets thanks to its extensive commercial and industrial network. Its five manufacturing plants are located in France, Germany, India and China and are among the industry's most advanced.
In 2016, SGD Pharma built its flagship, eco-friendly, greenfield, Type I glass plant at Saint-Quentin-la-Motte (France). This state-of-the-art plant produces more than one million vials and bottles per day, in clear and amber Type I glass. The products manufactured at this site are distributed across the globe.
Also in France, the Sucy-en-Brie factory dates from 1917 and concentrates on Types II and III amber and clear moulded glass bottles. Production is dedicated to oral applications (antibiotics, syrups and droppers), as well as injectable and infusion parenteral items, plastic-coated aerosols and printing services.
Opened in 2013, SGD Pharma's plant near Hyderabad (India) is dedicated to parenteral production in Type I moulded glass but also has converting operations for tubular glass vials and ampoules. A new unit with additional capacity for converting ampoules was opened in early 2018.
According to Laurent Zuber, glassmaking in moulded and tubular form continues to represent SGD Pharma's core business, although the company constantly monitors the market for complementary acquisition opportunities involving other materials. SGD Pharma continues to invest strongly in its plants to improve quality and service, its main priority for the coming year being the Sucy-en-Brie factory.
The increased automation of production processes is an ongoing priority, as is the attainment of a reduced carbon footprint via the conversion of furnaces from oil to natural gas and electric melting. Mr Zuber believes that the challenge to create a CO2 neutral glass container industry will not be overcome in the near future, however. "It is like meeting customer demand to achieve zero defects" he suggests. "Nevertheless, a continuous improvement approach drives all our processes."
In addition to its investment commitment to build and continuously improve its plant infrastructure, SGD Pharma invests in product innovation and continuous improvement. The company's R&D group is charged with advancing and innovating pharmaceutical glass packaging technology. Two recent developments targeted for parenteral therapies include the introduction of Clareo Premium Type II injection vials and high quality sterile and depyrogenated Type I moulded glass vials powered by Ompi EZ-fill.​
FUTURE GOALS
SGD Pharma's mission is to improve and protect patients' health b​y supplying high quality, reliable and innovative glass primary packaging. Under Laurent Zuber's stewardship, its global footprint and more than a century of expertise, SGD Pharma's vision is to be acknowledged as a great place to work, to expand its leadership position, be recognised by its customers and reinforce operational excellence.
For Laurent Zuber, it is important for SGD Pharma to continue to be recognised by its customers as a preferred supplier for pharmaceutical glass primary packaging, as the company continues its goal to drive innovation and sustainable growth.​
 
CORPORATE SOCIAL RESPONSIBILITY CO-ORDINATOR NAMED
Massine Yanat has been appointed Co-ordinator Corporate Social Responsibility Group by SGD Pharma on a 12 months contract. Corporate Social Responsibility corresponds to the way a company manages its impact on environment and energy use reduction, ethical rules set up in its relationship with suppliers and customers, social climate and employees competencies development, relationship with all third parties and civic sense; in a nutshell, all matters complementary to financial that contribute to maintain its robustness, reputation and its sustainability.
Mr Yanat's main task is to work on a CSR structured approach and provide a consolidated view of all different actions already in place across the group related to sustainability.