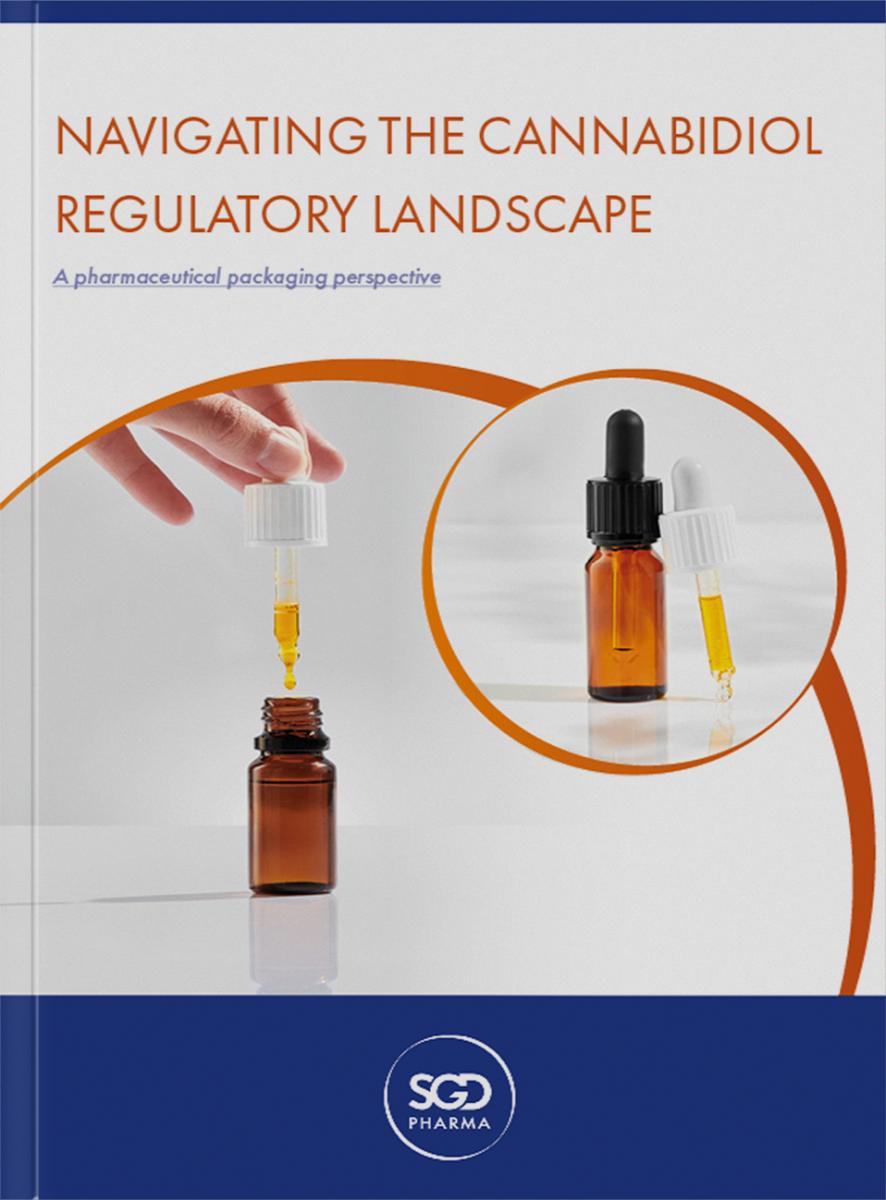 Making sense of cannabidiol regulations: Global insights for CBD oil packaging
The regulatory space around cannabidiol (CBD) – a non-psychoactive compound found in the hemp species of cannabis increasingly used to treat an array of medical problems – is ever-changing and complicated. Regulations vary across different geographies and are constantly being updated. CBD manufacturers must not only navigate the CBD regulatory landscape, but that of cannabis itself, making it one of the most complex markets to operate in. It is thought that by 2021, every state in the US will legalize cannabis for medical use,1 with Western Europe and Latin America closely following suit.
The global CBD market was valued at USD 4.6 billion in 2018 and is expected to grow at a compound annual growth rate (CAGR) of 22.2% from 2019 to 2025.3 The highly competitive and fast-moving market is primarily driven by growing demand for alternative therapy and natural remedies – with concentrated CBD oil representing an increasingly popular format. This trend is likely to influence partnerships between CBD manufacturers and packaging companies, as smaller producers look to scale up their operations.
North America
North America is currently the dominant region with the largest global market share, owing to the increasing legalization of medicinal cannabis in many U.S. states as a result of more widespread acceptance of CBD for pharmaceutical, wellness and personal use. Canada has also legalized the production and sale of both CBD and delta-9-tetrahydrocannabinol (THC)-potent marijuana for medical purpose, further supporting the growth of the market in North America. Despite the legalization of cannabis in Canada and many States in the U.S. for both medical and recreational use, its cultivation, production, distribution, and possession are highly controlled under strict regulations.
Europe
Like North America, the European medicinal CBD market is surging, pioneered by the UK and Germany. At the European Union (EU) level, the European Medicines Agency (EMA) is responsible for the scientific evaluation, supervision, and safety monitoring of medicines, and it coordinates a network of national regulatory authorities.5 National regulatory authorities license the use of a medicinal product based on the European requirements for marketing authorizations, which stipulate the evidence of sufficient manufacturing quality and safety/efficiency indications from clinical trials.8,9
Despite the seemingly united approach to CBD regulation in Europe, the situation is still fragmented on a localized level country-by-country. Every country has a different method of regulating CBD production, sale, and consumption. Part of the challenge is the disparity of what is available on the market. While consumers tend to look for high-quality products, the market is flooded with a confusing array of products that make unsubstantiated claims about health benefits. The increasing interest in medical CBD products from within the EU is likely to lead to some much-needed harmonization of rules.
Latin America
South America is an important region of growth for the CBD market, becoming a major supply hub for the growth and processing of cannabis and hemp biomass, as well as supporting domestic end-product markets. Laws remain strict but governments are generally showing support for liberalizing the rules affecting the industry. For example, Uruguay became the first country to legalize non-medical cannabis at a federal level in 2015, followed three years later by Canada. Mexico is also moving towards federal-level legalization of recreational cannabis, driven by the country's focus on combating the consequences of problematic cannabis use and reducing drug-related crime, while promoting security and well-being.
Safe, compliant CBD packaging
The supply chain for both pharmaceutical and food CBD products involves numerous entities, including hemp growers, manufacturers, food or pharmaceutical companies, consumer and healthcare brands, packaging suppliers, distributors, dispensaries and pharmacies, and online retailers. Knowledge and understanding of the regulatory requirements for CBD packaging varies widely across the supply chain, and those with a more comprehensive view of the strict compliance hurdles and penalties for non-compliance will be at an advantage. By interpreting regulation of cannabis and CBD in the food and pharmaceutical segments of the industry, companies can better navigate compliance at the national and international level, rather than local.
The safety and compliance of CBD oil packaging is crucial. Most oils are packaged in small glass bottles with a dropper top. Different countries have different requirements for CBD packaging, but largely these formats must support product integrity – for example preventing oxidative breakdown using amber glass – and most importantly, include safety features such as child-resistant closures (CRC).
By leveraging decades of expertise in pharmaceutical primary packaging, SGD Pharma is the ideal partner to navigate the complex CBD regulatory landscape and provide manufacturers with peace of mind that their product complies with appropriate regulations. Our new complete glass dropper bottle solution – Ensiemo – meets international standards and is one of the options on the market of pharmaceutical-grade quality.
To learn more about global CBD regulations, download our white paper here.
For more information about Ensiemo, please download the brochure here.