2017 Safety Day was a success thanks to an active participation and a strong interest in the workshops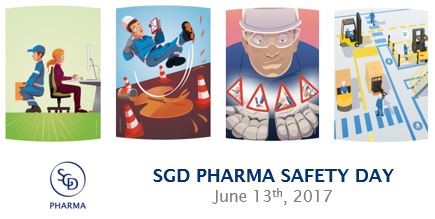 SGD Pharma's Safety Day took place on June 13th in all the group's sites in the same format ensuring consistency of messages and workshops. All employees were invited to this yearly event concerning safety, a major challenge for the group and also its employees' health.
Participants attended high quality presentations outlining key principles and objectives before enrolling in different workshops.
The company' sites highlighted best practices in numerous circumstances (evacuations, accidents, power cuts, work at heights…) and raised awareness among employees on topics as varied as first aid techniques with the support of the Red-Cross, exercises on well-being at work, chemical handling exercises and road safety.
To close this 7th edition of the Global Safety Day, many competitions and festive moments were organized allowing employees to share their experiences in a friendly atmosphere.
Being asked on a feedback about the day, employees particularly liked the high quality of the presentations and the communication tools, the involvement of the members of the Executive Committee and the organization of interactive workshops. SGD Pharma is pleased with the success of the 2017 edition and wishes to reiterate this session next year by developing the interactive workshops for which the employees expressed a keen interest.