Charenton-le-Pont, 31 January 2018
- A French leader in primary packaging changes its name -
 
On its eightieth anniversary, celebrated on 31 January 2018, the 1st day of the PCD trade fair, VG EMBALLAGE changed its name to EMBELIA.
Since 2015, VG EMBALLAGE has been reflecting on its evolution in a global, highly demanding market. Today, it strives to bring its clients and its partners the ranges, innovation, flexibility, quality and logistics required for their own development.
« The change in name and the new institutional signature "Le packaging full service" (the full service packaging) is part of our strategic plan Vasco 2015-2020. This change is a confirmation of our ambition: To outpace the markets, to influence trends, and to innovate through our services. »
Stéphane VIGIER,
General Manager
 
EMBELIA is the fruit of this reflection. The new corporate identity illustrates not only its capacity to evolve and effectively aid professionals in the markets of Beauty and Health, the traditional clients of the company, but also its willingness to use its expertise to contribute to other sectors where primary packaging is a concern.
EMBELIA has thus confirmed its willingness to act concretely as a reference supplier, locally as well as internationally.
This change in name will be effective in France and across the globe from 1 February 2018.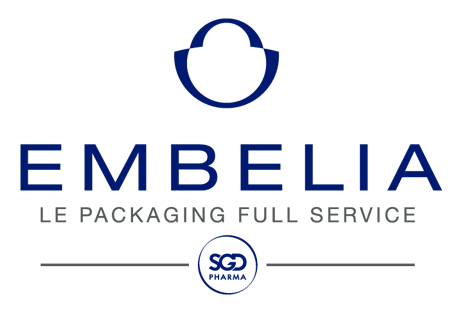 The name EMBELIA is an elegant neologism created using the French verb embellir (to embellish): "to make someone or something beautiful or more beautiful".
It is this unique approach of taking care of its products, its clients, its employees and its partners that characterises the company.
The embelia is a major medicinal herb that is considered to be a powerful anti-infectious agent. Elegant and dulcet, the name EMBELIA subtly evokes the universe of emballage (packaging). Its resilience comes from its international character: easy to pronounce and comprehensible in English-speaking countries as well as by speakers of languages derived from Latin.
This brand is coherent and broad enough to sufficiently encompass all the markets and materials that we use.
The EMBELIA logo builds on the past - it retains the original colours of the company and the form of the pre-existing logo. Its pictogram conjures up a continuous cycle of contents, the container and packing. Its 3D style suggests quality and efficacy, and resonates with the signature: "Le packaging full Service" (the full service packaging)
Consultancy firms:
Communication strategy / visual identity: Artatem
Naming: Enekia
----------------------------------
About VG EMBALLAGE
VG Emballage is a French designer, manufacturer and distributor of primary packaging.
It was created in the early years of the 20th century in the Bresle valley. After the successive purchase of several other French distributors, Verreries Générales joined the Saint-Gobain Group in 1966. Today, VG EMBALLAGE is a subsidiary of the SGD PHARMA group.
VG EMBALLAGE in figures
35 million Euros, 15% of which is from exports,
4 offices in France, 1 office in Italy,
More than 2,000 active clients per year,
Deliveries made to over 50 countries,
10,000 m2 of storage space,
1,500 items always available in stock,
150 million glass, plastic and aluminium flasks sold per year, bare, decorated and/or accessorised,
250 million accessories sold per year,
550 moulds owned by VG EMBALLAGE,
 ISO 9001 certified.
___________________
Press Contacts
VG EMBALLAGE
Tatiana Darde

Tatiana.Darde@sgdgroup.com

Tél.: +33(0) 1 53 44 66 68 88

Mob.: +33(0) 6 72 21 27 04
Stéphane VIGIER
stephane.vigier@sgdgroup.com
Tel.: +33(0) 1 53 66 68 63
Mob.: +33(0) 7 85 17 53 39
VG EMBALLAGE
14 place de la Coupole CS 40016
94227 Charenton-le-Pont Cedex
Tel.: +33(0) 1 53 66 68 68