Ensiemo
Your partner for a safe, qualitative & compliant packaging solution
Download the brochure
Get a quotation
White paper
Navigating the cannabidiol regulatory landscape
Download
SGD Pharma offers a high-quality range of clear and amber bottles and dropper assemblies ideally suited for oil product formulations. They feature pharmaceutical grade glass with precise and accurate dropper dosage resulting in virtually no product waste.
This convenient and functional combination can also include the following features:
Child-resistant packaging systems certified ISO 8317 & US CFR 16 1700.20
Senior friendly
Product integrity features with Tamper Evidence (TE)
Dropper bottles
Teats / bulb
Caps
Pipette
Dropper bottles
. 10ml, 15ml, 30ml (other bottle options available including 20, 50 and 100ml)
. Amber or clear glass
Teats / bulbs
. Small (0.7ml) or Large (1.0ml) volumes
. TPE material for 1.0ml teat/bulb with Child Resistant Closure (CRC) option only
. Natural rubber or nitrile for 0.7 ml
. Other colors available on request
Caps
. Polypropylene (PP) or High-Density Polyethylene (HDPE) materials
. Tamper Evident options
. Child Resistant Closure (CRC) options
Pipettes
. Type III glass of various lenghts (57 to 77mm)
. Various tip shapes available (tapered or bent ball tips
. Graduated or ungraduated
Complete packaging solution & services

Time saving &
peace of mind

More flexibility

Reduced administrative work
(1 order, 1 delivery, 1 invoice)

Better lead times

Ready-to-fill
product

Minimize
environmental impact
(less deliveries = less carbon footprint)

Cost saving

Increased efficiency &
convenience

Mastered supply chain

Consistency & reliability
Why use glass packaging for oil
products?
· Glass material provide unrivalled barrier properties
· Optimal oxygen and light barrier
· Maintains product stability and shelf life
· Natural glass properties
· Extremely low level of extractables compared to other materials and impermeable
· Long established safe packaging material
. Infinitely recyclable
· Natural composition - 3 simple source materials: sand, limestone & soda ash
· Economical packaging option throughout the supply chain
01

Select your vial
03

Customize your solution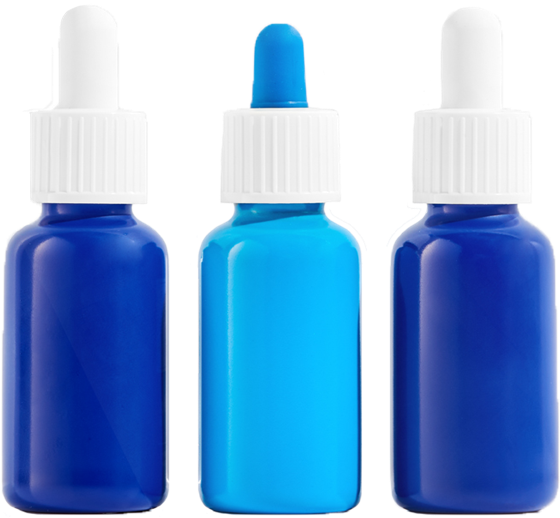 Standing out can help to push your sales to new heights!
SGD Pharma offers a range of customizable plastic coating and decoration options for its high-quality dropper bottle range that can further enhance the visual and tactile desirability of your product.
Contact us