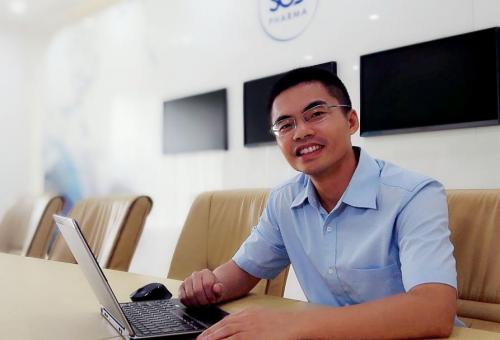 Mac Song
Fincance Controller at SGD Pharma Asia Pacific
Can you give us your background?
Following my graduation with a major in Accounting, I started my career in 2002, working for a European tooling corporation. After 3 years, I joined a UK chemical group, Texon, where I was in charge of their financial analysis before working for an American manufacturing group, Leggett & Platt, where I managed the financial department of their Foshan plant. I then joined SGD Pharma Asia Pacific in 2008 as Controlling Manager and was promoted to Financial Controller in 2010.
Can you describe your job in more detail?
I supervise two functional teams, the accounting and cost controlling ones. The accounting team is in charge of keeping the books, making sure that we are compliant with the Chinese guidelines at all time. They are also responsible for the reporting to the SGD Pharma Group. My role is to ensure that we meet and exceed all global and local tax rules. 
I manage the controlling team, working with cross functional teams to help drive SGD Pharma Asia Pacific's productivity and to identify cost saving opportunities.
I also help management with the decision-making process by performing analysis.
Are there any achievements that you are particularly proud of since you joined the company?
Like most companies, we face new challenges every year and with our strong commitment and sense of responsibilities, our teamwork overcomes these challenges.
As an example, with the support of local and global teams, we managed to switch from a high interest rate with a local bank loan to intercompany debt with SGD Group in 2012. It allowed us to reduce the interest rate significantly and greatly improved the cash flow for the Zhanjiang plant.
Is there anything specific that you like in your working environment that you would like to share?
I appreciate that there are increasing opportunities to grow both professionally and personally. It is a result of training and the trust from SGD Pharma upper management. As a team, it allows up to have a higher sense of responsibility and have a direct impact on improving the financial health of SGD Pharma Asia Pacific.
This empowered environment is very rewarding and motivating.