Introducing our enhanced Type I parenteral packaging offer
Here at SGD Pharma, we are pleased to announce the enhancement of our Type I molded glass vial range, now available in three market-driven offerings, each designed to satisfy different needs and parenteral drug specifications. In response to our extensive analysis of the market, this new approach, unique to SGD Pharma, provides pharma and biopharma companies with products and services solutions that meet the needs of their therapeutic applications, drug properties and business environment.
MATCHING PACKAGING & PRODUCT – TO HELP YOU WELL-MATCH YOUR NEEDS
From your needs
Formulation properties (E.g. pH iconicity)

Therapy Area

Drug Cost

Galenic form (Solution, suspension, powder)

Geography (Regulations & market specific requirements)
TO OUR PACKAGING SOLUTION
Portfolio range
Options and customization
Product quality specifications & cosmetic aspect
Secondary packaging
Technical support
Integrated service level
Choose a solution to meet your requirements
Core benefits & applications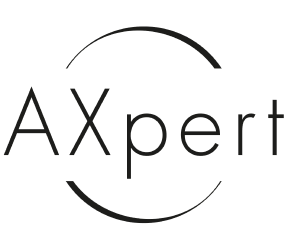 Total quality assurance
Proactive support and services
For the most demanding and costly drugs that call for the highest levels of quality and integrity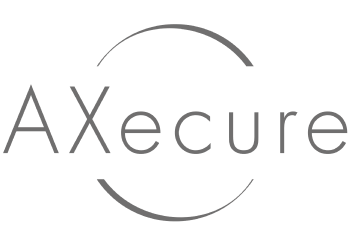 Superior quality vials
Flexibility to meet your supply needs
For a wide range of parenteral drugs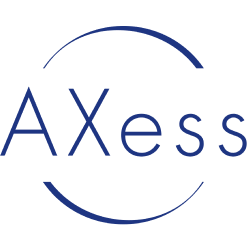 Optimized Total Cost of Ownership
Reliable, good quality glass packaging
For essential or primary care drugs requiring inert packaging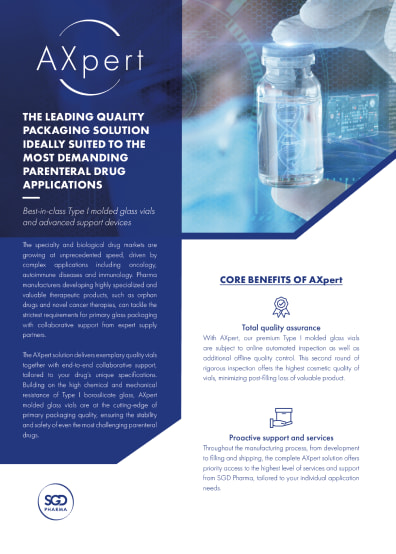 AXpert
The leading packaging solution that combines exceptional quality vials designed to suit the most demanding, high-value therapeutic products, alongside tailored expert guidance, and priority technical and regulatory support services. AXpert Type I molded glass vials are subject to our usual online automated inspection as well as additional offline quality control, offering the highest cosmetic quality and minimizing post-filling loss of valuable product.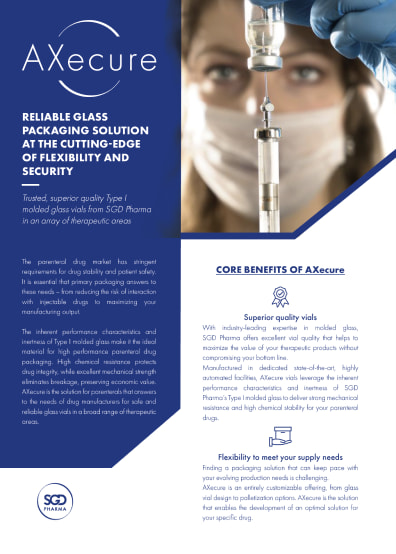 AXecure
Superior quality vials suitable for the widest range of parenteral drug applications, with a variety of options for customization, from vial design to palletization. AXecure is the de-facto standard solution for parenteral packaging that helps to maximize the value of your therapeutic products without compromising your bottom line.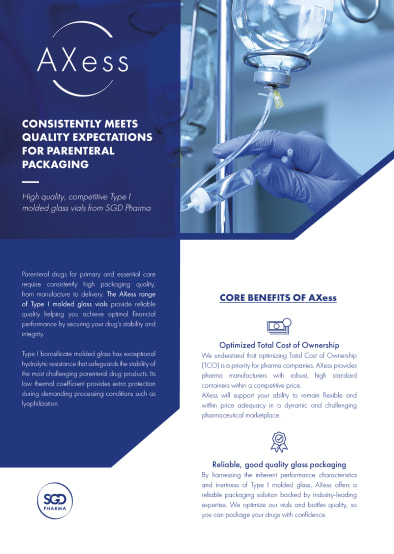 AXess
Reliable, high-quality glass vials for essential or primary care drugs requiring optimized inert packaging options. AXess supports manufacturers' ability to remain flexible in a dynamic and challenging pharmaceutical marketplace where optimizing Total Cost of Ownership (TCO) is vital.
The benefits of Type I molded glass
SGD Pharma is the global market expert in Type I molded borosilicate glass – which is the ideal material for packaging sensitive parenteral drugs that require minimal drug-container interactions and enhanced stability and shelf-life. It is the most inert glass used for packaging high-value parenteral drug products, not only offering the best mechanical resistance properties but a low thermal coefficient also provides extra protection during extreme processing conditions such as lyophilization and sterilization. The U.S. Food and Drug Administration (FDA) has recognized molded glass as more resistant to delamination, urging drug manufacturers to at least consider the vials they use for "at-risk" products. These features all make Type I molded glass ideal for a wide range of therapy and disease applications.
To discover the SGD Pharma Type I Molded glass manufacturing process with our complimentary online training tool, please visit: Online Training Platform
Why SGD Pharma?
SGD Pharma is the only manufacturer of Type I molded glass today to bring a tailored product and service offering to market globally, with best-in-class manufacturing facilities in France and India and an output of 2.5 million glass vials per day. We are market leaders in molded glass, with a long history of manufacturing glass vials and containers for use in primary packaging, recognized for both the quality of manufacture and the regulatory support required to fast-track product registration of drugs. Now we are using our world-class expertise to help match you with the best fitting packaging and services solution based on your unique business and parenteral product requirements.
To discuss whether AXess, AXecure or AXpert is best suited to your individual business needs and to understand how molded glass can improve your packaging supply chain globally, please visit: Type I Molded Glass vials.
SGD PHARMA'S BEST-IN-CLASS TYPE I MANUFACTURING PLANTS
FULLY DEDICATED TO PHARMACEUTICAL APPLICATIONS

SAINT-QUENTIN-LAMOTTE
Newest Type I molded Glass facility in the world
A state-of-the-art plant
Completed in February 2016
Latest melting, molding and inspection technologies
Green-zone facility ( 20% of electricity is wind powered)
ISO 15378 certified
11 000 m2 factory footprint
2 400 m2 ISO clean room
1 million vials a day
2 furnaces

Vemula
New operation facility, built in 2013
Certified ISO 15378
Plant near Hyderabad
Dedicated to Parental products offering molded and tubular Type I vials and ampoules
Certified ISO 14001 and BS OHSAS 18001
31 800 m2 factory footprint
1 700 m2 ISO clean room
+ 1,5 million vials and ampoules per day
1 furnace for molded Type I glass