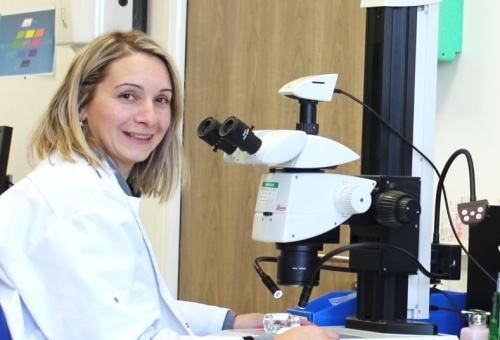 Sabrina Godquin
Laboratory Technician, SGD Pharma Saint-Quentin-la-Motte
Could you sum up your career for us?
In order to become a laboratory technician, I obtained a Master's degree in Materials Engineering right before starting at Saint-Gobain-Desjonquères in 2005 as a member of the R&D laboratory within the department of Service Expertise & Development Analysis. While I was responsible for breakage expertise, I also initiated the collaboration with the team at the test laboratory where production quality is monitored every day by assessing the chemical and physical properties of our products. In 2008, I began receiving more training and have been working for the pharmacy division since 2014.
Since the opening of our new plant in Saint-Quentin-la-Motte, I have been responsible for overseeing all of the analysis techniques we use.
Building on my wealth of technical experience and with the support of my colleagues and managers, I completed my university studies in 2017 alongside my work to graduate with a Master degree in Analysis, Chemistry and Spectrochemistry.
Could you describe your job in more detail?
Lab coats, spectrometers, microscopes, beakers... There is so much equipment and so many materials which are part of the appraisals I carry out every day to support all of SGD Pharma's factories and the regulatory affairs and R&D divisions.
Precision, trustworthiness, tenacity and regulatory compliance are paramount for this role. In the pharmaceutical industry, more than anywhere else, quality is a crucial factor. This is why we must continue to come up with new analytical approaches which I am responsible for developing and monitoring.
Are there any accomplishments that you are particularly proud of since joining SGD Pharma?
Following the launch of a new x-ray fluorescence spectrometer in 2018, the chemical analysis of all glass produced by SGD Pharma was transferred to the R&D Laboratory. I carried out the performance qualification for the machine and approved the analysis methods used to test the glasses and the raw materials. This work is still ongoing for some of the raw materials we use.
Is there something in particular that you appreciate about your work environment and would like to share?
The most important aspect of my job is the ability to work as a team, to communicate and to share your findings. The laboratory works in collaboration with quality and production teams every single day in order to identify problem areas and find solutions. This is vital for ensuring that we progress in the same direction and that we capitalize on our shared expertise every day to provide the company with increasingly competent technical support.