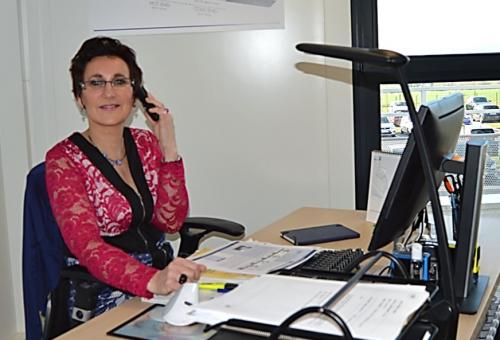 Nathalie Aubrejat
Executive Assistant at Saint-Quentin-la-Motte
Can you summarize your career?
I joined SGD in 2002 as a receptionist, while supporting the Human Resources department. Thereafter, I accepted in 2008 a new role as Human Resources Assistant in addition to my original duties.
In 2014, the year our new plant at Saint-Quentin-la-Motte was built, I was offered the position of Executive Assistant, a position I have been delighted to fill since the site opened.
Can you describe your role in a little more detail?
Assigned to the Management of the site at Saint-Quentin-la-Motte, I handle all of the everyday business related to managerial tasks. My main tasks include: administrative duties, diary management, travel arrangements, meeting preparations, taking notes and putting together reports, preparing and following up on projects, internal/external communication … to sum up, my job is to lighten management's load and create value to each action.
As the point of contact for many interlocutors, my tasks are varied and I face new challenges on a regular basis.  My work requires responsiveness, organizational skills and a lot of versatility.
Are there any achievements that you are particularly proud of since you joined SGD Pharma?
When our new factory was built at Saint-Quentin-la-Motte, I participated to events planning, preparing materials and logistics for a variety of events, ceremonies and inaugurations.
In collaboration with IT, I also contributed to implementing a new software for interactive communication in the form of dynamic display, to offer homogeneous and consistent on site communication.
Is there something that you particularly enjoy about your work environment and that you would like to share?
The profession of Executive Assistant requires the ability to listen and understand in order to adapt to different tasks and different interlocutors.
Working with the Management team, I have the opportunity to offer them my assistance and support in their daily business, something I truly appreciate. I am also still lucky enough to be in contact with all of the staff at the plant, as those relationships are important to me.
Every day is unique and I continue to learn and improve as I perform my duties.
After 16 years at SGD Pharma, I am proud of my journey and of the promotions I have been offered. I have continually been surrounded with professional, motivating and kind people who have helped me to improve and to excel.