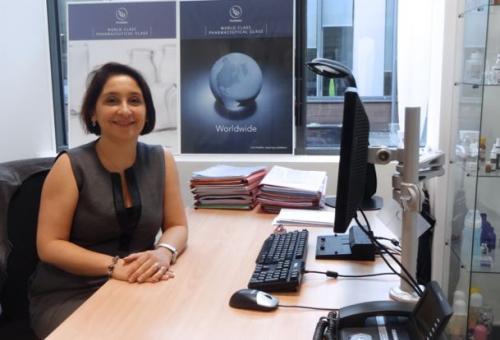 Stéphanie Dagostino
VP Accounting and Taxation
Could you give us some information about your background?
After graduating in a business school (Ecole Supérieure de Commerce de Paris) in 2003, I joined Price Waterhouse Coopers (PwC) for eight years working as a consultant assisting companies' financial departments. I joined SGD in 2011 as Accounting and Reporting Manager and after the split between the perfumery and the pharmacy businesses, I integrated SGD Pharma and also took over French accountancy and taxation responsibilities.
Can you describe us more specifically your current role at SGD Pharma?
Today I have a dual role with financial reporting and consolidation on one side and French accountancy and taxation on the other.
As for the reporting and consolidation are concerned, I manage the results' analysis and aggregation of all subsidiaries in order to have a global vision of the group's performance.
For the accountancy part of my job, I supervise a team in charge of all French entities' accountancy. Finally, as for my taxation responsibilities, I have to ensure that all taxation rules are respected, that the information provided is reliable and I also need to coordinate some international taxations issues.
Are there any specific challenges that you took on since you joined and that you are particularly proud of ?
One of the challenges that I was given was to deliver financial accounts and statements to our investors only for the pharmaceutical business while the activities were not yet split. This phase of data research, analysis and compilation in a very short timing to prepare the split, was a real challenge.
Another achievement was my involvement to SGD Pharma's project of the company's sale to JIC, our new shareholder. I was in charge of preparing, coordinating and delivering all the financial information requested by the investors.
Is there one or various elements that you particularly appreciate in the working environment of SGD Pharma ?
Since my arrival at SGD five years ago, I took part in various projects and I appreciate this fast paced context which allows us not to settle too much in a routine mode. Projects involve various company's departments and enhance team work which I really enjoy. Besides, I love to work in a multi -cultural environment even if it can sometimes be challenging.